Wood Working Vice
APEX Code 737
Wood Working Vice
(Size : 6", 7", 8", 9")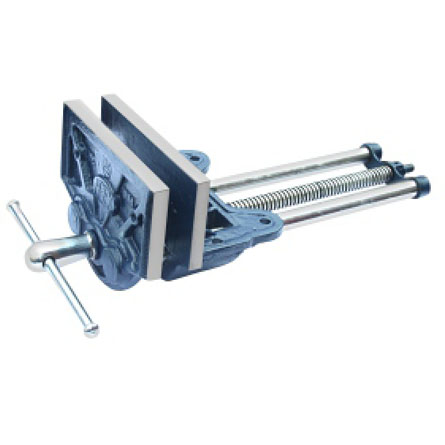 Features :
Accurately machined housing assure smooth sliding movement.

Vice jaws equipped with a "TOE - IN" feature. When fully closed, the jaws meet only at the top to provide even clamping on the whole depth of the work piece.

Square body seating provides easy fitment under the bench top so that jaws are flush with the bench top.

Body and sliding jaw have provision for attaching wooden liners to protect the vice, work piece and working tools.
Construction :
These are manufactured from close-grained grey cast iron for long trouble free service.

Accurately fitted solid steel guide rods reduce wear and tear giving the vices a smooth and true parallel action, free of side or cross deflection.

The Steel main screw has buttress threads for smooth, accurate and responsive adjustment.
Finish : Enameled oxford blue.
Specifications
Size in inches
6
7
8
9
Width of Jaws (in mm)
150
175
200
225
Opening of Jaws (in mm) Code
180
230
260
330
Weight (app. in Kgs) Code
4.6
8.1
10.5
15.3