Permanent Magnetic Chucks Circular
APEX Code 742
Permanent Magnetic Chucks Rectangular
( Size : 4" x 8", to 12" x 24" )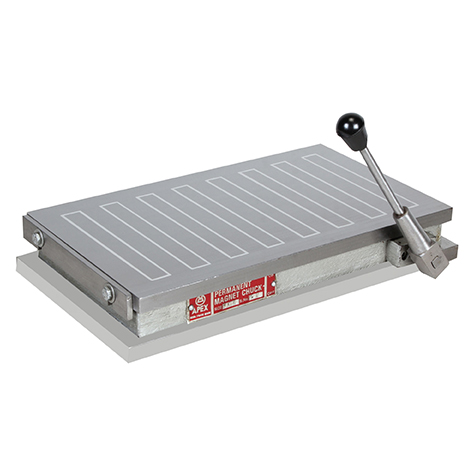 Features :
Suitable to work both in drift or wet grinding process.

Extra thick top plates ensure many years of life even after frequent re-grinding.

Supplied with side & end stops.

High performance at a competitive price.

Application :
Designed for application on surface grinding machine as well as to serve as a working aid on various Engineering working sites.

Specifications
Size in inches
4x8
4x12
5x10
6x10
6x12
6x14
6x18
6x24
8x12
8x14
6x18
8x18
8x24
10x24
12x24
Width of Table (in mm)
100
100
125
150
150
150
150
150
200
200
150
200
200
250
300
Length of Table (in mm)
200
300
250
250
300
350
450
600
300
350
450
450
600
600
600
No of Poles
5
7
5
5
6
8
10
12
6
8
10
10
12
12
12
Working area of Table
70x150
70x215
95x175
115x175
115x240
115x295
115x375
115x515
165x225
165x295
115x375
165x375
165x515
205x515
255x515
Weight (app. in Kgs.)
9
12
13
15
18
22
30
36
24
31
30
36
53
66
80