Preci Tilting & Swiveling Vice
APEX Code 749, SG749
Preci Tilting & Swiveling Vice
(Size : 4", 6")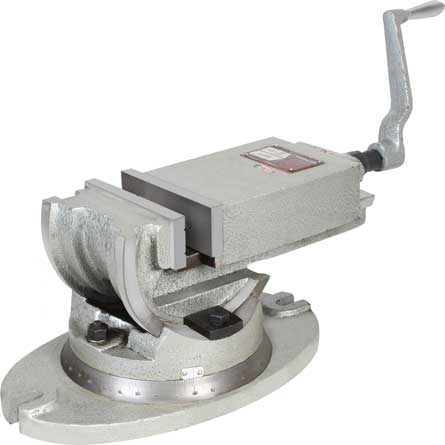 Features :
(Dovetailed Slide) Vee sideways adjustable for giving prolonged working life.
Manufactured to consistent accuracy to give prolonged reliable service.
Bearing Surface Precision ground. Flatness within 0.0012" (30 microns)
Once locked impossible to shift.
Totally enclosed acme screw with three point location of operating in Manganese Bronze Nut.
Tenon Slot machined in back as standard for CNC use.
Swivel base graduated through 360°
Vertical Tilting Capacity 90°
Finish : Hammer tone Ash grey.


SG749
: SG Ductile Iron Body
Finish : Hammer tone metallic blue.
Specifications :
Code
749
Size in Inches
4
6
Width of Jaws (in mm)
100
150
Depth of Jaws (in mm)
40
50
Opening of Jaws (in mm)
100
150
Length Overall (in mm)
345
510
Height Overall (in mm)
150
200
Width Overall (in mm)
180
250
Tenon Slot Size (in mm)
16
20
Weight (app. in Kgs.)
20
49