Giant Slotted Angle Plates Machined
APEX Code 777
Stepped Angle Plates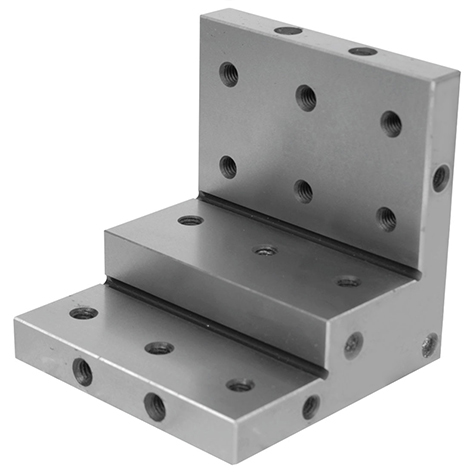 Features :
A convenient step of 32 mm down from the top and a 12 mm seat alllows for use with smaller work pieces. Presence of 24 tapped hole allows for fastenings to fixtures & clamping work to the angle plate.
Application :
An indispensable device for accurate work in tool room and in small production, jobs for checking flatness squareness and parallelism.
Construction :
Manufactured from a single piece of hardened tools steel.

Precision Ground, square and parallel.
Accuracy :
Flatness working faces (5 Microns)

Squareness exterior faces over height (10 Microns)

Parallelism opposite faces & edges over their length ( 5 microns)

Squareness and faces w.r.t. Exterior faces as measured over length (10 microns)
Specifications
Size ( in inch )
3 x 3 x 3
4 x 4 x 4
Size ( in mm )
75 x 75 x 75
100 x 100 x 100
Thread spec. of tapped holes
¼"BSW
5/16"BSW