Screw Jack with Steel Body (with Flat Support)
APEX Code 911
Screw Jack with Steel Body (with Flat Support)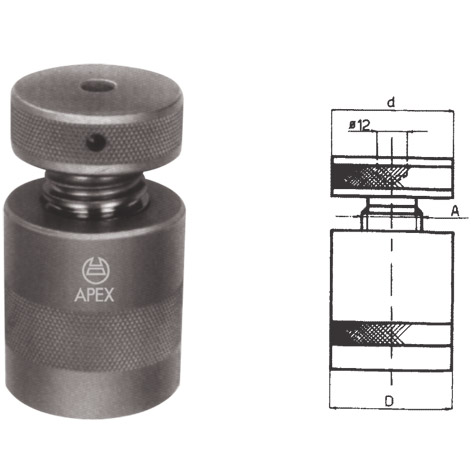 Features :
Centering hole dia 12mm provided for pads.

Spindle : Trapezoidal Thread

Material : Carbon Steel Heat Treated blackened.

Self locking with end stop body.

All types of pads can be used for num-erous adaptions. Coupling pad P-6 useful to pile up height of screw jacks Code 911-2 and 911-3.
Specifications in mm
Code
Range H1 H2
Base Dia - D1
Cap Dia DC
Static Load Max - Kn
Wt. Kg.
911-1
40-50
32
32
12
0.230
911-2
50-70
50
50
60
0.600
911-3
70-100
50
50
60
0.800
911-4
100-140
70
65
100
0.500
911-5
140-210
80
70
165
4.560
911-6
190-300
98
80
350
9.100