4 Way Vee Blocks-Cast Iron
APEX Code 778
4 Way Vee Blocks-Cast Iron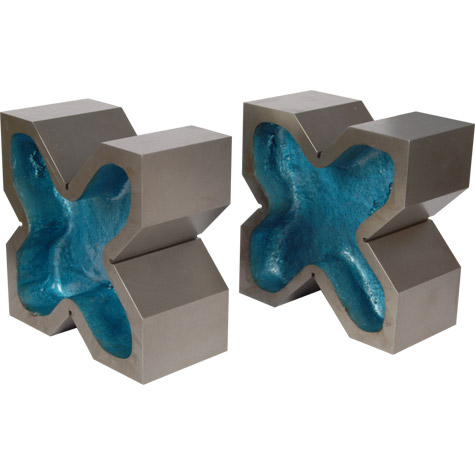 Features :
Manufactured and supplied in matched and numbered pairs.

Each Block incorporates 4 different sized Vee's thereby supporting a wide range of sizes. This enables a single block to be used as a workholding device for supporting different sized jobs.

The larger sizes incorporate a cavity on either sides for convenience in handling during usage.
Application :
These are very useful for making and checking of cylinderical parts.
Construction :
Made from close grained cast iron.

These vee block are precisely ground and machined square and parllel.
Accuracy :
Squareness and Parallelism of vee grooves with respect to base (30 Microns)
Specifications in mm
Code 778
WIdth ( in mm )
Length ( in mm )
Height ( in mm )
Vee Capacity ( in mm )
778-1
35
95
70
20x30x40x50
778-2
30
100
100
20x30x40x50
778-3
35
120
120
30x40x50x60
778-4
60
120
120
30x40x50x60
778-5
75
150
150
40x50x60x70
778-6
100
200
200
60x70x80x100