Tool Maker's Vee Block & Clamping sets-Precision
APEX Code 779
Tool Maker's Vee Block & Clamping sets-Precision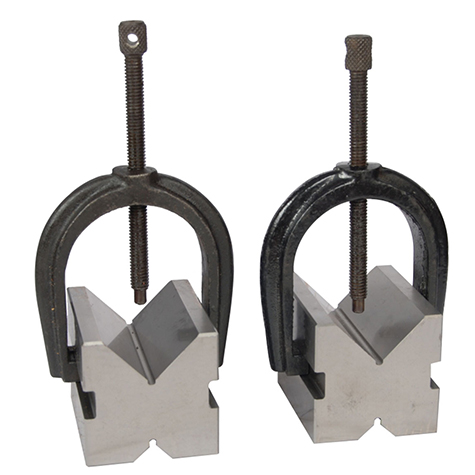 Features :
Manufactured and numbered in matched pairs, each pair has two 90 degree Vees of different capacities which are identical to the Vees of its matching block. The Vees are ground central, parallel and square with the ends and sides.

Each pair of vee Blocks comes compete with a pair of rigid and robust clamps.
Application :
Useful for holding work securely during drilling, milling and grinding operations and also in layout and inspection work.
Construction :
Made from finely selected tool steel fully hardened to 50-55 HRC.
Accuracy :
Permissible height difference between matched pairs within 5 microns

Parallelism and squareness of Vee Grooves with respect to all surfaces within 8 microns

Parallelism of opposite faces of Vee Blocks within 8 microns

Squareness of adjacent exterior faces of vee Blocks within 8 microns

Flatness of working faces within 5 microns
Specifications
Code
Block Length ( in mm )
Block Width ( in mm )
Block Height ( in mm )
Width Small Vee ( in mm )
Width Large Vee
Clamping Capacity
779-1
40
32
32
11
20
25
779-2
45
40
36
14
28
32
779-3
50
37
37
13
28
37
779-4
60
40
50
17
25
30
779-5
70
45
40
17
33
37
779-6
75
55
55
17
35
40
779-7
80
65
65
22
45
50
779-8
100
75
75
30
68
75