Parallels & Vee Transfer Blocks
APEX Code 784
Parallels & Vee Transfer Blocks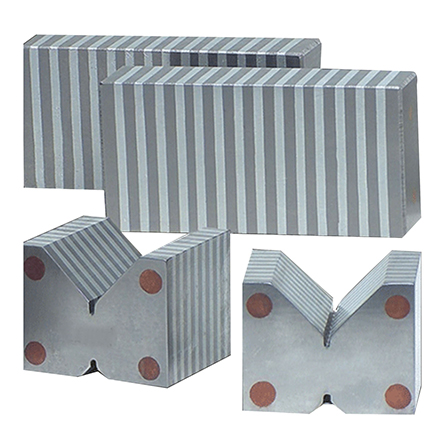 Features :
Used as an accessory for magnetic chuck to clamp thin & odd shape jobs.
Simplest method of extending the magnetic flux of magnetic chuck with parellel poles to support the job.
Maximum flux transformation when placed parellel to pole lines.
90° V provided for round job.
Perfectly ground within 5 microns & supplied in matched pair.
Specifications
Size (L X W X H)
Type
Unit
100x50x25 mm
Flat
Matched Pair
48x58x46 mm
Vee Type
Matched Pair
110x58x46 mm
Vee Type
Single
150x75x50 mm
Flat
Matched Pair
300x75x25 mm
Flat
Matched Pair
150x75x50 mm
Vee Type
Matched Pair
300x75x25 mm
Flat
Matched Pair