Lever Clamp
APEX Code 901
Lever Clamp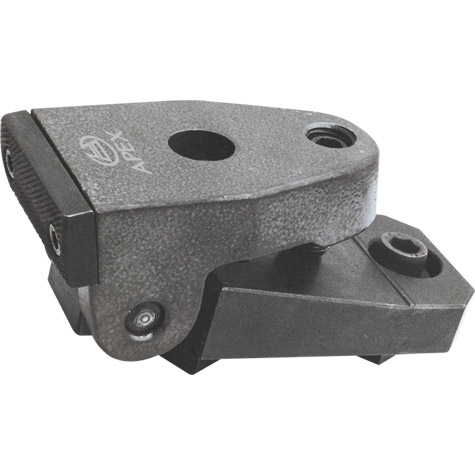 Features :
Suitable for machining of large object where entire surface is to be kept free from obstruction.

No limitation of job size because of two piece construction.

Maximum clamping force with minimum effort.

Radial serrated Jaw assures firm clamping.

Used for clamping jobs having uneven & unmachined surface.

To fix the job rigidly, long base plate with two T-Nuts is used. This avoids reduction of clamping pressure due to slippage.
Application :
Used on milling, shaping, drilling machines & surface grinders etc.

Useful to clamp the job having height more than 60 mm.
Construction :
Main body of S. G. Iron, clamping Jaw & Base plate made of Hardened steel.
Finish : Black oxidized & powder coated.
Specifications in mm
T - Slot Size
L
L1
B
H
Height of Job ( mm )
Pressure max kN
Weight App. Kgs.
12 to 20
100
135
60
65
More than 60
15
7.5
2