Taper Clamp
APEX Code 903
Taper Clamp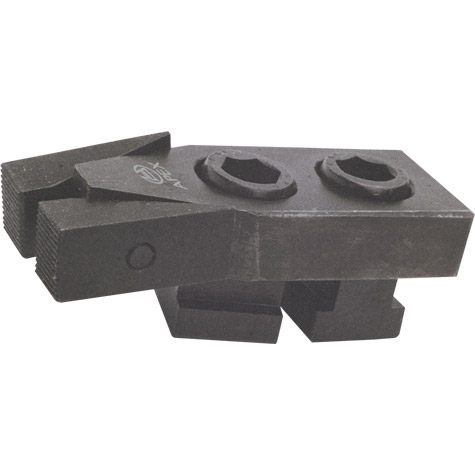 Features :
Low height side clamps which leave the entire surface free for machining.

Improved design of the clamping jaw applies wedge type action thereby exerting equal side & downward pressure with maximum clamping force. The compound movement of the two jaws creates the drawing action.

This clamp is more useful than flat clamp Code 902 due to full serration of the jaws to clamp thin material.

Effective & rigid clamping of flat job is done irrespective of the size of job.
Application :
Used on milling, planing & where high clamping force is required.
Construction :
Finish : Black Oxidized.
Specifications in mm
Code 903
T-Slot
L
B
H
Allen Key
Approx. Pressure kN.
Weight App. Kgs.
903-8
8
75
25
12
5
10
5
0.250
903-10
10
75
25
12
6
10
5
0.280
903-12
12
110
30
15
8
15
7.50
0.500
903-14
14
110
30
15
10
15
7.50
0.500
903-16
16
115
40
20
10
20
10
1.000
903-18
18
115
40
20
10
20
10
1.000
903-20
20
160
50
25
12
30
15
1.750
903-22
22
160
50
25
16
30
15
1.750