Slot Clamp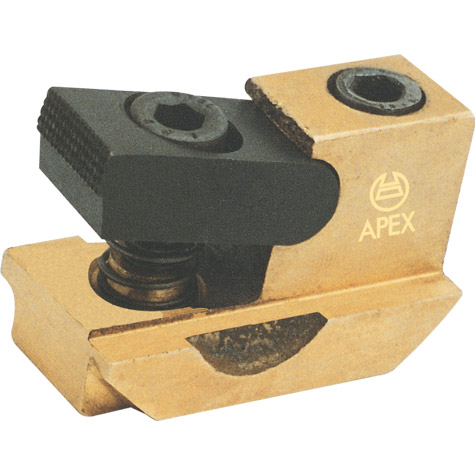 Features :
Useful to hold the thin plates up to 9 mm thickness & clamp positively due to its very low height.

The entire body goes in the T Slot & only clamping jaw remains above the bed level

Enables complete surface to be machined in one setting.

Main body is made of brass to save the machine bed from rusting & clamping jaw is made of heat treated alloy steel for strength & durability.

Suitable for jobs which require low to medium clamping force.
Application :
Used on milling, planing & where high clamping force is required.
Construction :
Body made of brass, clamping jaw made of hardened steel.
Finish : Black Oxidized.
Specifications in mm
Code 904
T-Slot
L
B
H
Allen Key
Approx. Pressure kN.
Weight App. Kgs.
904-12
12
40
20
25
5
6
3.00
0.100
904-14
14
43
23
28
5
7
3.50
0.125
904-16
16
47
23
28
6
8
4.00
0.175
904-18
18
50
29
35
6
10
5.00
0.225