Stepless Height Adjustable Clamp
APEX Code 905
Stepless Height Adjustable Clamp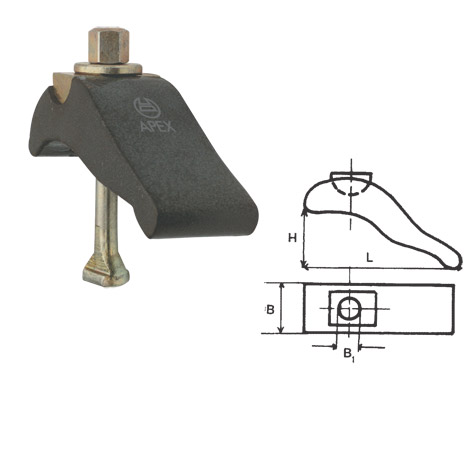 Features :
Stepless clamp Easy to use for fast coverage of several ranges of work height without additional supports. Low space requirement on machine table.

Swiveling half piece assures perfect clamping.

Supplied with T Bolts. Hex Nut & plain washers along with this clamp.

Heavy duty design and specially suitable for clamping of press and punching tools.
Application :
Used where limited machine table space is available & milling, shaping, planing machine.
Construction :
Main body of S.G. Iron T Bolts & Hex Nut made of Toughened C 45.
Finish : Wrincle Black
Specifications in mm
Code 905
B1
Clamping Height H
B
L
Weight App. Kgs.
905-1212
17
0-50
50
138
1.500
905-1412
17
0-50
50
138
1.500
905-1616
17
0-65
50
138
1.500
905A-1616
21
0-75
60
175
2.740
905-1816
17
0-65
50
138
1.500
905A-1816
21
0-75
60
175
2.740
905-2020
21
0-85
60
175
3.000
905-2220
21
0-95
60
175
3.000