Down Thrust Clamp
APEX Code 906
Down Thrust Clamp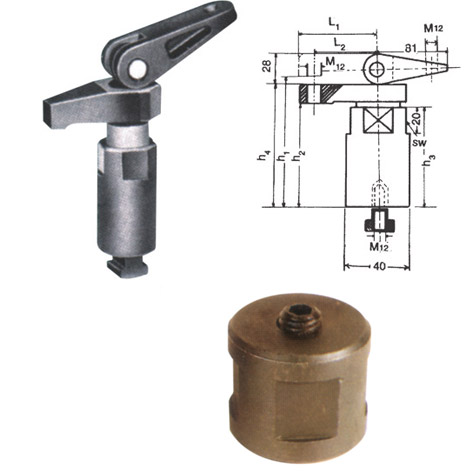 Features :
Occupies very little space due to its compact construction.

Rapid clamping & unclamping by hand with positive down thrust by means of threaded spindle & eccentric lever.

Clamping height can be steplessly adjusted & increased simply by using height adjustment cylinders.

Spring is provided for quick release of clamping pad.

Eccentric lever gives clamping stroke of 1.5 mm to clamping pad which results downward thrust of 10000 N.

Easy and quick clamping of work piece by swinging away the clamping pad.

Useful for mass production where clamping / declamping is to be done within a fraction of second.

Code 906 E: Height adjustable cylinder for increasing the clamping height is available.
Application :
Due to fast clamping & unclamping with positive down ward force it is widely used on machine tool pallets, NC machines etc. with or without T-nut. Used as standard clamping element in the construction of fixtures.

Any T slotted table or with hole having M 12 threading on any machine
Construction :
Finish : Black Oxidized.
Specifications in mm
Code 906
Size in mm
T-Slot
Job Height which h2 could be clamped
Min h1 Max h4
H3
L1
L2
Dia of
Maxi Ht. Cylinder
Pressure Of clamp
Spanner KN
Weight App. Required
Kgs.
906-105
105
14 to 18
70
105
72
93-128
55
43
40
140
10
36 A/F
1.400
906-135
135
14 to 18
100
135
98
123-158
55
43
40
170
10
36 A/F
1.700
Specifications Code 906E (Separate Cylinder)
Code 906E
Size
H
D
Spanner Required
Weight App. Kgs.
906E - 35
35
35
40
36 A/F
0.250
906E - 70
70
70
40
36 A/F
0.500